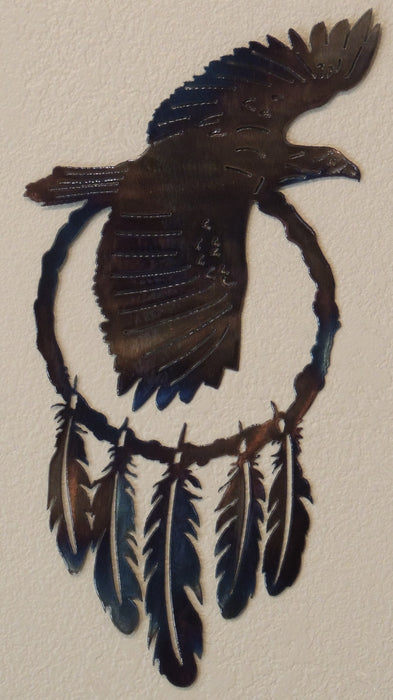 Soaring Eagle Dream Catcher
Sale
Sale
Original price
$66.99
-
Original price
$108.99
The metal eagle dream catcher is one that signifies inspiration, strength, courage, and wisdom. This metal art piece pays homage to traditional dreamcatchers, which originate from Native American cultures and is a protective talisman to shelter individuals from bad dreams and nightmares.
 It is believed by some cultures that both good dreams and bad dreams pass through a dreamcatcher and the good dreams glide down the feathers toward people in the general area.   
The eagle in the metal dream catcher holds strong symbolization in Native American culture. Eagles are known to be one of the highest-flying birds and Native Americans believed that they were the closest creatures to the Creator. It is a symbol of sacredness and is believed to hold a strong connection with prayers and visions to the Great Spirit – so much so that many Native Americans would hold an eagle feather when in prayer.
The eagle has also been known to be symbolic of courage and freedom. The courage symbolism can be related to the risk of leaving the nest and flying out on its own and the freedom can be associated with the free movement of their wings and their strong independence. The eagle is also known to be one of the strongest birds of the sky, which represents being able to rise above all challenges and moving forward with positivity and strength.
This metal eagle dream catcher is the perfect gift for someone or can be used as a decoration for your bedroom, living room, or outside balcony. It can also be a great addition to any room with southwest décor.
Spread those wings and fly high with the soaring eagle dream catcher made from the original metal art company.
Product Information
Dimensions: 18" or 24" 

Material: 18 gauge cold rolled steel

USA Made: All materials and products created in America. 

Hand-torched and Handmade Finish

Finished with a hyper-durable clear powder coat for longevity. 

Indoor and outdoor use.