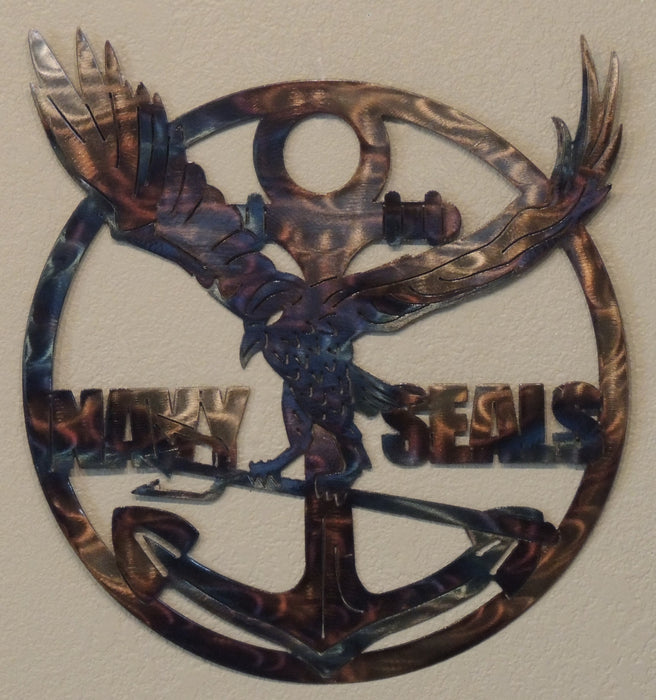 Navy Seals Oval
Sale
Sale
Original price
$39.99
-
Original price
$181.99
The Navy Seals are the primary special operations force of the United States Navy and are known for their small-unit operations in various climates and environments around the world whether it be maritime, mountains, jungle, or desert. The modern-day Navy SEALs can be traced back to WWII when the United States recognized a need for covert operations dealing with coastal defenses and landing beaches. 
The SEAL trident, also known as the Special Warfare insignia, recognizes the members of the U.S. Navy who completed Nay SEALs training and consists of an eagle with anchor, a trident held in its talons, and a flintlock style pistol.
The anchor represents the SEALs' parent military department of the Navy. The trident is symbolic of the Navy SEAL's connection with the ocean and the pistol symbolizes the combat capability of the SEALs. 
The anchor symbolizes the Navy, the SEALs' parent military department. The trident symbolizes the connection a SEAL has with the sea. The pistol represents a SEAL's combat capability.
We thank and respect all those who have served or currently serve with the U.S. Navy SEALs. 
Product Information
Dimensions: 12", 18", 24", or 30" 

Material: 18 gauge cold rolled steel

USA Made: All materials and products created in America. 

Hand-torched and Handmade Finish

Finished with a hyper-durable clear powder coat for longevity. 

Indoor and outdoor use.